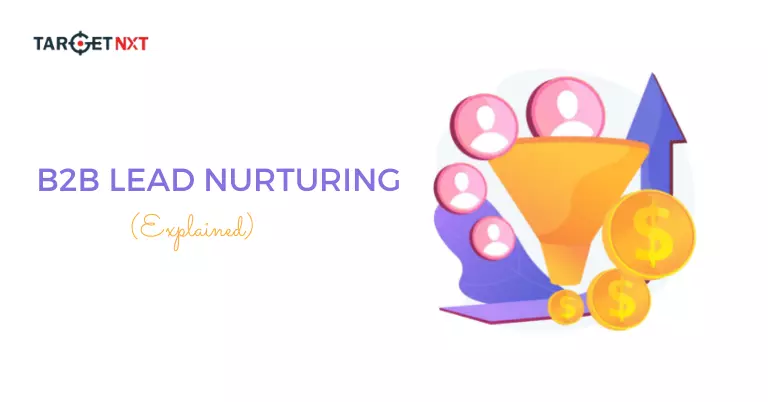 Generating leads to feed your company's sales funnel is one thing and walking them through the sales funnel all the way down till they convert into paying customers is different. You need an effective lead nurturing campaign to convert leads into paying customers.
What is Lead Nurturing?
Lead nurturing is the process of improving and reinforcing the bond with your customers at every step of the sales funnel. In order to build trust, increase brand awareness, and maintain a connection until a prospect is ready to purchase, a lead nurturing campaign focuses its marketing and communication effort on listening to the needs of your prospects.
What is a Qualified Lead?
A qualified lead is a prospect that fits your ideal customer profile, that has a high chance of becoming a paying customer, and has a high chance of being a successful long-term customer.
What are Lead Nurturing Campaigns?
Lead nurturing campaigns are the preliminary elements to strategize the sales funnel content for your prospects to ensure more sales and conversion.
Types of Lead Nurturing campaigns:
Welcome Campaign: The purpose of sending welcome emails is to complete your customer's onboarding process. Make sure to keep your content personalized, relevant, and clear to understand. Also, welcome emails are the best way to give your prospects a glimpse of the products and services you provide.
Educational Campaign: This campaign aims at only educating your prospects that are not sales-ready yet, the content is designed to keep your prospect in the loop.
Product/Service: This campaign is designed to illustrate specific aspects of the product/service your prospect has shown interest in.
Promotional campaign: A promotional campaign provides the necessary push your prospects require to reach the bottom of a sales funnel. Promotional campaigns often contain coupons, special pricing, discounts, etc.
Re-engagement Campaign: This campaign exists to re-engage your prospects that went dormant for a long time. For re-engaging your prospects Email Marketing is the best strategy.
Event Engagement Campaign: An event engagement campaign focuses on engagement before and after prospect registration. Often these include webinars as well as in-person events.
Authority Perception Campaign: Your prospects need to believe in your product/service purchasing it, an authority perception campaign makes sure your prospects get that final assurance. The emails usually include press releases, high-ranking industry report relevant to your niche, and links to your high-traffic copy to ensure your prospects are taking the right decision.
Important Aspects of B2B Lead Nurturing Campaigns
Before you could dive right into your lead nurturing campaign, consider these important elements of lead nurturing.
Understanding Buyer Persona
What is it that your prospects desire at work? This is a question you want to ask your fictional ideal customer, which contributes to your buyer persona based on your current customer base.
Personalization
Personalization can take your lead nurturing game up a notch, sending informal emails with their name in them, and maintaining a conversational tone in your emails make your prospects feel connected. And also, when you personalize your emails, it makes your prospects feel wanted and valued.
Segmenting your email list based on the following traits will help you create relevant and personalized content:
Job Title
Age
Location
Interests
Educating Your Prospects
Educating your prospects regarding the current state of their buyer journey is the most crucial step of closing the sales cycle. This can be differentiated into three phases:
Awareness phase: Share blog posts related to the interests of your prospects. Keep your prospect informed of the latest trends in their industry.
Consideration phase: Invite your prospects for virtual events or webinars about your product or demo.
Decision phase: Finally, share with your prospects the success stories, reviews, testimonials of your customers.
Retargeting
Retargeting is the process where you make your prospect engage with you again after closing a deal. Now that you know your customer's buying behavior, you can create lucrative content and appealing CTAs to entice your customers.
Stop Spamming your Prospects
Sending emails on a daily basis will definitely annoy your prospect and portray you as someone who only cares about selling your product/service. One major thing to avoid in lead nurturing is over sending emails to your prospects this will overwhelm them and eventually make them unsubscribe from your email list or even worse – mark your emails as spam. Choose the right frequency to send emails to your prospects, keep experimenting until you figure out what works the best for you.
Start Right Away!
Why wait till your prospect shows buyer intent, start nurturing your prospect as soon as they engage with you in any form, with any part of your business, you can even start nurturing your lead as soon as they engage with your blog post as well.
Address your Prospects' Pain Points with Content Marketing
Content marketing is about addressing your prospects' pain points and delivering them solutions through your content. Because a modern-day buyer has become smart enough to discard whatever smells like an ad or promotional piece. Content marketing will help you establish trust with your prospects and make them your loyal customer for longer-terms.
Wrapping up
I have often seen marketers going gaga over email marketing and lead generation, but very less businesses indulge in lead nurturing. Just like any other marketing tactic, lead nurturing is equally important. Nurturing five solid leads that might convert to be a loyal customer is far better than chasing down twenty short-term leads.
Yes, lead nurturing is a slow and time-consuming, and tiring process, but trust me when I say this, it is totally worth it if you intend to close deals on a larger scale. You can always get hang of it after continuous lead nurturing efforts, you can someday achieve great conversions that you desire by tinkering with your content, lead scoring, and qualification.
Found this interesting? Help us spread the word.