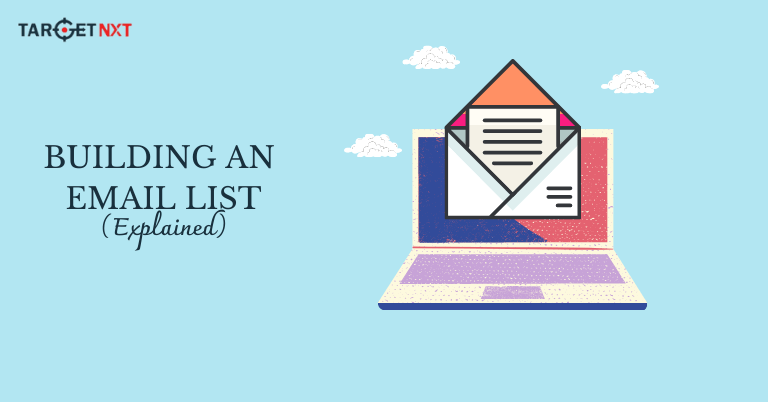 Did you know?
9 out of 10 marketers use email marketing for distributing content originally.
Email marketing has gained popularity due to its effectiveness. It is the easiest as well as a cost-effective marketing strategy.
For a business in the growth stage, email marketing acts like a magic potion that helps you build stronger and long-lasting relationships with your customer.
But there is a catch. And the catch is, for an email marketing campaign to be successful, it needs to be backed up by a solid email list of authentic customers and prospects.
Why do you need an email list?
– Emails have a personalized effect on your customers making them feel connected with you.
– Users prefer to use emails rather than any other channels for business purposes.
– Emails are mostly sent to a target audience which increases its effectiveness.
– Emails have higher conversion rates
– Unlike many other marketing techniques such as social media, blogging, advertising, which have faded with time. Emails have always been effective and continue to do so.
Now that we have understood the importance and benefits of email marketing and email list, let us look into the best practices to build an authentic email list.
How to Build an email list?
Building an email list is no rocket science and not very simple either. Nevertheless, we have listed 6 simple yet effective steps to be taken to build an Dentist Mailing List.
Create Opt-In Form
Opt-in forms are the best way to collect your customer or site visitors' contact details. Ask your visitors to submit their contact details as soon as they land on your site. Opt-in forms can be designed in myriad ways. Choose the one that suits your brand persona well.
Opt-in designs play an important role in collecting the data, a good opt-in design that promises to offer something of value in return will immediately leave a good impression on your customer. And a poorly designed opt-in form is a big turn-off for your visitors. Therefore, pay close attention while designing your email list.
Offer lucrative Incentives, Freebies, or Coupons
It is a well-known fact that no person is going to provide you their email address unless they get something in return (apart from promotional messages). While designing your pop-up or opt-in page, make sure to mention the benefits of subscribing to your newsletter.
Businesses often provide free e-books, access to members-only sales, and content upgrade.
What is a content upgrade? Well, a content upgrade is a gated piece of content that is exclusively provided to people who subscribe to their email newsletter. A content upgrade usually contains free guides, DIY blogs, product catalogs, et al.
Integrate CTA on your Home Page and Social Media Bio
For the people who are not aware of what call to action (CTA) buttons are, these are clickable links you place in your emails or landing pages asking your user to perform certain tasks.
For example, you might have come across these abnormally big but attractive buttons usually saying, "Buy now", "Add to cart", "submit". Similarly, integrate "Subscribe to our Newsletter" CTA on the home page of your website and social media bio.
Of course, you can come up with better options than 'Subscribe to our Newsletter', this was meant to be an example. Put your creative senses to use and see what works for you. The best way to determine what type of design is turning out to be beneficial to you is by testing your CTAs. Update your designs and copy regularly to identify the CTA that suits you the best.
Along with home pages, you can integrate CTAs in your social media account bio. The people who have visited your social media handle might as well be enticed to subscribe to your email newsletter.
Invite to Sign Up for Updates
Another great way of collecting your customer's email address is by offering to notify them about any recent updates, upcoming sales, back-in-stock products, new collection products, etc. People are usually excited to know and get exclusive access to the sales and like to be notified about certain things.
Utilize the Power of Blogs
You can generate a great amount of traffic with the help of content marketing. You can attract your customers by writing interesting and SEO-friendly blogs. What you can do to collect the email addresses of your blog visitors is embed a timed pop-up. One way of doing this is by showing the visitor a pop-up after they have spent 30 seconds on your blog post.
If your blog article is interesting and succeeds in creating a buzz among your readers, your readers are most likely to subscribe to your email newsletter to know more about your brand.
Start Building your Email List
These are the best tried and tested methods of building your email list. By strategically using your CTA, creating opt-in forms, offering discounts and incentives to those who subscribe, sending invites to get notified, and by unleashing the potential of blogs to acquire email addresses, you can build yourself an authentic Email List that will assist you to run dynamic email marketing campaigns.
Found this interesting? Help us spread the word.