C-Level Executives Email List
Looking for a C-Level Executives Email List? Want to get in touch with senior executives who make crucial choices for their companies? You are in the correct spot! TargetNXT offers you the most complete mailing list of C-level executives, including CEOs, CFOs, CIOs, COOs, CXOs, and CSOs. Additionally, we promise to give a reliable database with a variety of essential data on professionals from many industries.
Boost your brand profile by reaching out to the decision-makers in the industry
Bring your company to the eye of these well-known executives to create new connections that could lead to the generation and growth of potential leads. You can get in touch with real prospects that have demonstrated a high response rate over an extended period with our reliable C-Level Executives Email List. Enjoy your time off as TargetNXT's C-Level Executives Database connects you with potential consumers. With our streamlined Email databases, experience the ease of effortless marketing and reach your targeted business seamlessly .
Our C-Level Executives Email List includes :
Contact Us We will help you reach your full potential.
| DATABASE | DATA COUNTS |
| --- | --- |
| CEO Email Addresses | 265,990 |
| CMO Contact List | 55,965 |
| CFO Mailing List | 85,809 |
| CIO Email Database | 34,976 |
| COO Email Address List | 25,573 |
| CTO Contact List | 32,865 |
| CSO Mailing List | 14,986 |
| CKO Contact Database | 12,856 |
| CCO Marketing List | 14,215 |
| CLO Email Database | 9,546 |
| CXO Contact List | 29,845 |
| CBO Email Lists | 1,168 |
| CNO Database | 15,423 |
| CDO Mailing Database | 8,846 |
| CHRO Email Address List | 27,856 |
| CPO Mailing Addresses | 9,096 |
*Note: The data counts mentioned against each database is not constant and may change due to the periodic verifications and updates. Please contact our executives to know the current counts.
Gain a competitive edge, by using our comprehensive C-Level Executives email database.
Since we value your brand as much as you do, we have been consistently providing our clients with reliable and verified data for the past ten years. To preserve accuracy throughout, we only compile data from reliable and authentic sources.
Because we recognize the value of even a single lead to an organization, a team of data professionals at TargetNXT makes countless calls each year to confirm the accuracy of the data.
We can guarantee that your business will benefit from our database of C-Level Executives. With the help of our reliable mailing database, you can now endorse, market, and expand your brand into a behemoth with ease.
Maximize your ROI by utilizing our precise C-Level Executives Lists.
Reach C-Level Executives From Different Industries with our authentic databases.
With our C-Level Executives Database at your disposal, you can reach out to the key decision-makers of every industry and thereby avoid the chance of missing any distribution possibility.
Other C-Level Users Mailing Database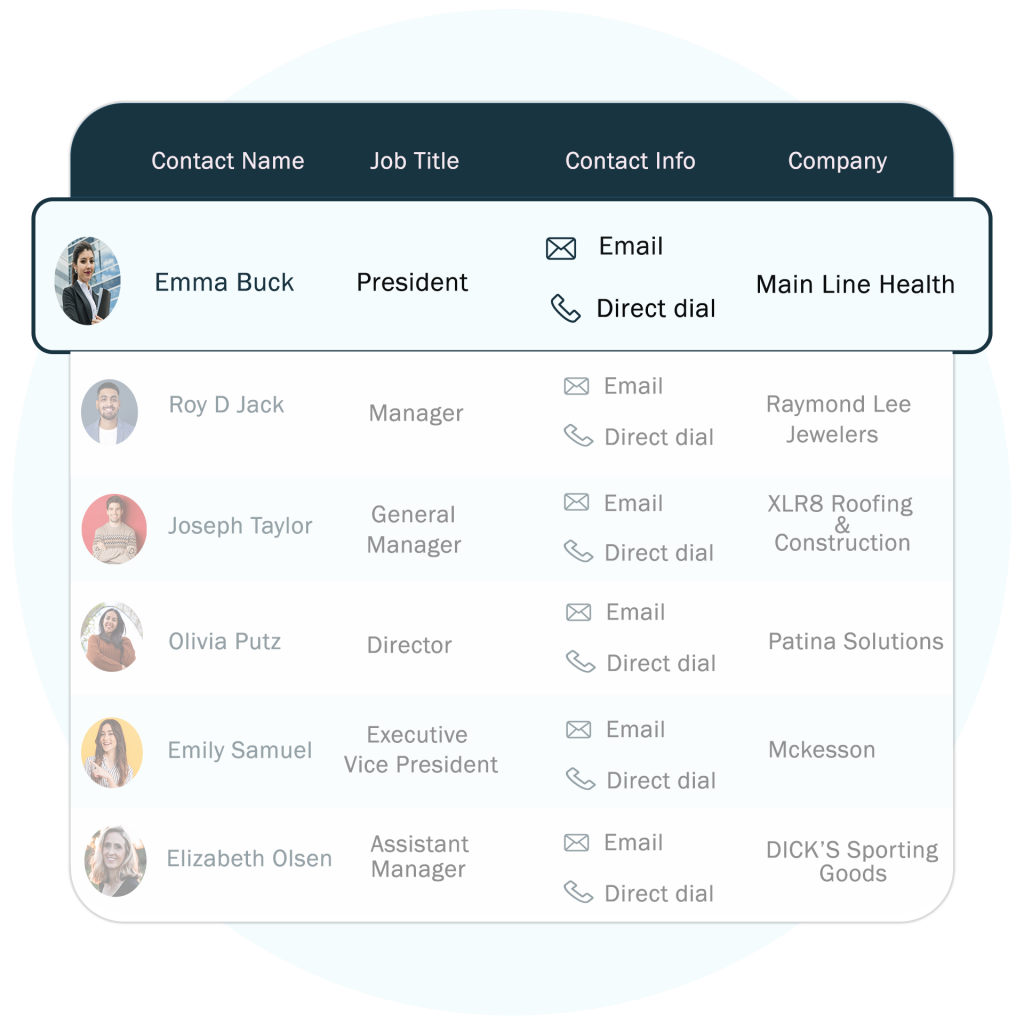 Sign up to try our samples for free
Use our free samples to test our products before you buy! To judge for yourself the value and quality we offer, try out some of our services. Don't miss this opportunity to try out our products risk-free.
Frequently Asked Questions
Say no to inaccurate data, since we are here to help you find the right data.
Share your target specifics which you would like to reach for running your marketing campaign.
Drop your business email address & phone number, our sales experts will get back to you with pricing and counts ASAP.