Get in touch with the highest-ranking executives in a company or organization who are responsible for making strategic decisions to manage the overall operations of the organization with TargetNXT's CEO Email List Now! We provide the best-in-class email lists that put you directly in contact with CEOs of top companies to promote your products and services effortlessly.
Customize your CEO Email List by
Our Customers Love us and you will too!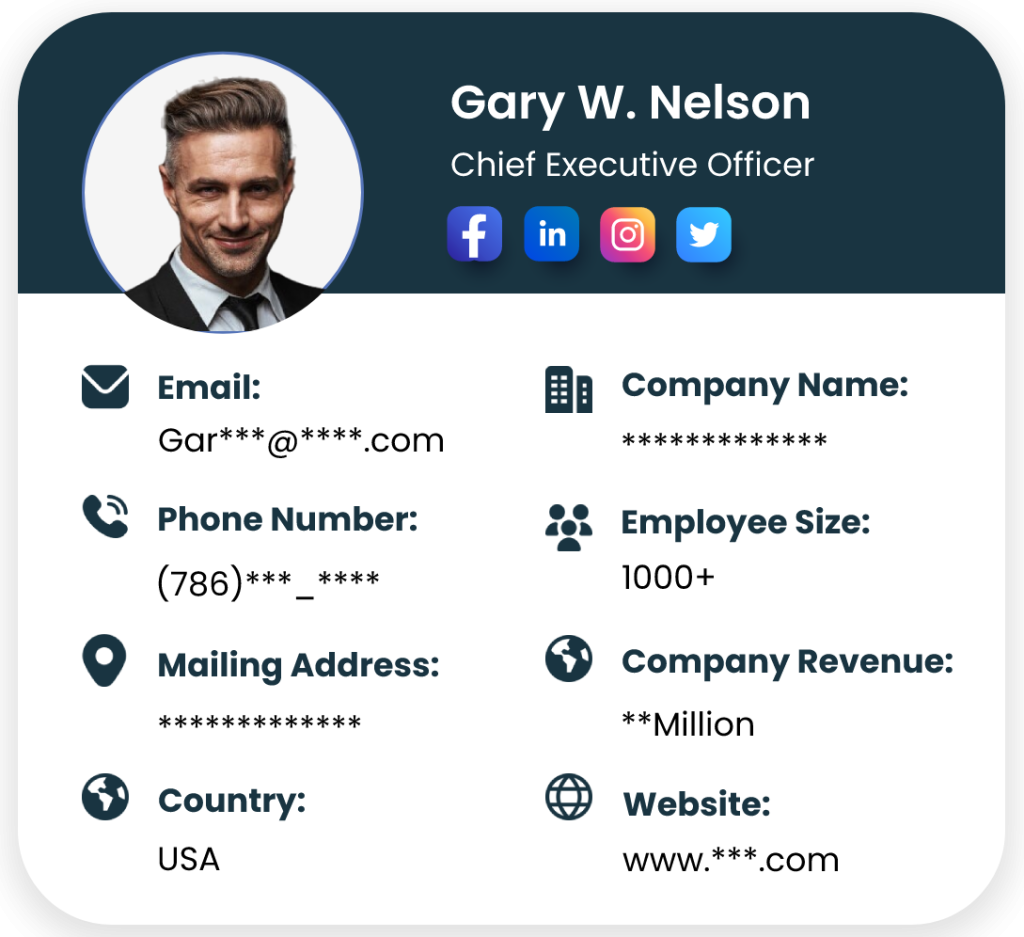 Generate Sales-Ready Leads With A Responsive CEO Mailing List.
TargetNXT presents a comprehensive CEO email address that enables you to communicate with CEOs directly. Our CEO Email & Mailing List are ideal for marketers looking to connect with the CEOs to pitch their products, solutions, or services. Before making the final version of CEO email addresses, the collected information is processed through multi-tier verifications, powered by automated verification programs the database is cleansed of any irregularities, redundant data, duplicates, and errors. Our customized data allows marketers to connect with their most valued prospects across APAC, EMEA, and AMER regions. The wide range of authentic information provided by our CEO Contact Database that enables you to run multi-channel marketing campaigns effectively.
Work with our B2B Contact Data to Unleash your Business Potential
We handle all your CEO data requirements. Whether you are a marketer, sales personnel, or an event organizer we have got you covered.
Lead Generation
Generate qualified leads, and Convert leads to customers.
Sales Development
Improve Sales engagement to win customers like never before.
Multichannel Marketing
Get 10X faster campaigns to call your prospective customers to action.
Event Marketing
Get your ideal attendee list for Conferences, Expos, or Webinars…
Expand Your Customer Base With Chief Executive Officer Email List
We provide you with CEO Email Database that helps you to achieve your marketing objectives most efficiently. Chief Executive Officer Database is used by marketers worldwide to connect with the CEO's from top companies. We have built our CEO Contact Lists compatible with email marketing, tele-marketing, and direct marketing campaigns. Which ever may be your strategy we can assist you with ample information on the right prospects and increase your conversion rates. This enables increased ROI and an overall hike in profit rates.
Our CEO Email List covers all Industries and countries including:
Unlock the power of your CEO network with our email database.
How Reliable Are the Sources of CEO Contact Lists?
Our team of data experts gathers information from various reliable sources and then verifies and checks for relevancy. We source data from credible and legitimate sources alone. Some of our sources are
Other C-Level Users Mailing Database
What Makes TargetNXT's List of CEO Emails Better Than Others
Our extensive database enables you to do multi-channel marketing in a smooth manner. It increases customer involvement, resulting in a significant increase in campaign performance.
Frequently Asked Questions
Say no to inaccurate data, since we are here to help you find the right data.
Share your target specifics which you would like to reach for running your marketing campaign.
Drop your business email address & phone number, our sales experts will get back to you with pricing and counts ASAP.