Do you wish to connect with senior executives in charge of overseeing procurement functions including, sourcing, purchasing, and supplier management in an organization? Then our CPO Email LIst hold a lot of power as they make purchasing decisions for the company according to its requirements. If you are trying to market your products and services to CPOs, TargetNXT's data will be your perfect companion as it contain authentic and responsive information of CPOs across the world.
Customize your CPO Email List by
Our Customers Love us and you will too!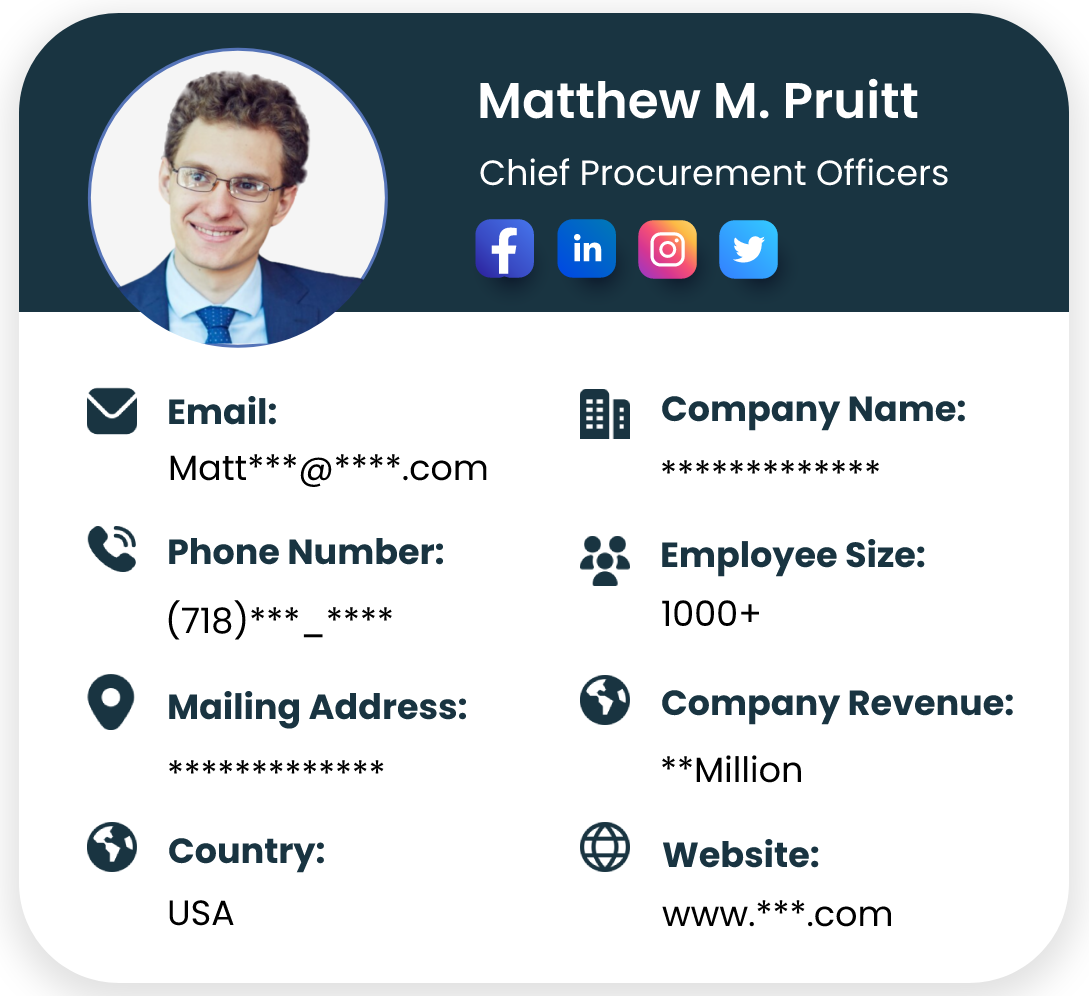 Obtain C-Suite Access with Our CPO Email Database
Are you still looking for cost-effective ways to make business contacts, Chief Procurement Officers? Investing in an email list with accurate contact information for your target audience is the most practical way to facilitate this. Investing in our deliverable and responsive CPO Mailing List can save you time and other valuable resources while you build and maintain profitable business relationships. So dive into the competitive world with our CPO Contact Lists and see how our data can help you grow your business.
Work with our B2B Contact Data to Unleash your Business Potential
We handle all your CPO database requirements. Whether you are a marketer, sales personnel, or an event organizer we have got you covered.
Lead Generation
Generate qualified leads, and Convert leads to customers.
Sales Development
Improve Sales engagement to win customers like never before.
Multichannel Marketing
Get 10X faster campaigns to call your prospective customers to action.
Event Marketing
Get your ideal attendee list for Conferences, Expos, or Webinars…
Fuel Your Marketing Campaigns with Our Chief Procurement Officers Database
Having trouble getting a response from your prospect? Then you are probably marketing through the wrong channel. When a business is marketed properly, it can generate revenue. With Chief Procurement Officers Contact Data from TargetNXT, you can improve your marketing and stay ahead of your competitors. With our robust email database, you can engage in multichannel marketing and target your audience through their preferred communication medium. Work with TargetNXT to increase lead generation and sales.
Customize your CPO Email lists based on:
Utilize Our Chief Procurement Officers Contact Lists to Increase Your Marketing ROI.
Our Legitimate CPO Data Sources
With our Chief Procurement Officer Mailing Addresses, you can reach the right audiences without fear of your message ending up in spam because our CPO Mailing List goes through a three-step verification process that includes AI, a manual quality check, and an opt-in process.Our Reliable Sources Are:
Other C-Level Users Mailing Database
Empower Your Business Growth with Chief Procurement Officer Lists
Our extensive database enables you to do multi-channel marketing in a smooth manner. It increases customer involvement, resulting in a significant increase in campaign performance.
Frequently Asked Questions
You can find details like names, contact information, email addresses, postal addresses, social media accounts, SIC, NAICS, and OCC codes in our CPO Email Addresses. In addition, you will get information on location, years of experience, etc.
A CPO Email List can be beneficial to businesses because it provides them with access to key procurement decision-makers. This allows them to directly promote their products and services to the individuals in charge of making procurement decisions, increasing the likelihood of securing new business.
Our CPO Email List's accuracy and quality are ensured by cross-referencing it with other sources, such as LinkedIn profiles and company websites. You can also obtain sample data from us in order to evaluate the quality of the list before purchasing it.
Say no to inaccurate data, since we are here to help you find the right data.
Share your target specifics which you would like to reach for running your marketing campaign.
Drop your business email address & phone number, our sales experts will get back to you with pricing and counts ASAP.