A dynamic company requires a dynamic and trustworthy source of data to target potential customers in marketing initiatives. When you don't have reliable data, prospecting and lead nurturing can be quite frustrating. As a result, TargetNXT has created a database that contains the vital contact details of significant decision-makers at several firms across various industries. If you work in marketing, you've probably experienced the frustration of trying to contact a lead by going via gatekeepers and switchboards. But using certified desk extensions or phone numbers from the TargetNXT direct dial database expedites reaching out to your prospects.
Change your marketing game with our Direct Dials.
With the help of the top-notch direct-dial phone numbers that TargetNXT provides, you can get in touch with leading c-level executives, managers, directors, and other significant decision-makers immediately. You may speed up lead creation and sales by using high-quality, confirmed phone numbers in the direct dial database. You can market your company directly to the person who has the power to decide whether to buy your goods or services by using TargetNXT Direct calls to bypass the switchboard and speak with decision-makers.
Expand your market reach, using TargetNXT authenticated direct-dial database.
A complete B2B solution, TargetNXT direct dialing database targets crucial business demographics including lead generation, revenue generation, sales cycles, and brand awareness. To achieve improved conversion rates, our direct dial database is built with sales-ready qualified leads. also improved market positioning for the brand. In-house data experts rigorously verify every piece of information in our database three times to guarantee correctness across the board. Our database is the best in its class because it has undergone extensive manual and automatic verification.
Stay ahead of your competitors with TargetNXT.
With our direct dials, contact your targets immediately.
Foster your relationship with your prospects and increase their customer base with our cost-effective Direct dials.
Well-segmented target lists
Our database is user-friendly, and you can choose from many categories to segment your prospects' information.
Accurate Phone Numbers
We work hard to keep a database free of errors, through constant validation and verification processes.
Increase Your Market Reach
Our direct dialing is primarily used to interact with businesses and support the development of a vast commercial network.
Data policy compliance
We only gather information from people who have permitted us to do so. Moreover, it complies with different data policies.
Service with integrity
We place a high focus on developing trusting relationships by providing accurate and genuine data to our clients.
Motivate your campaign
Our direct dialing database is intended to increase lead generation, shorten sales cycles, fill your sales funnel, and raise brand awareness.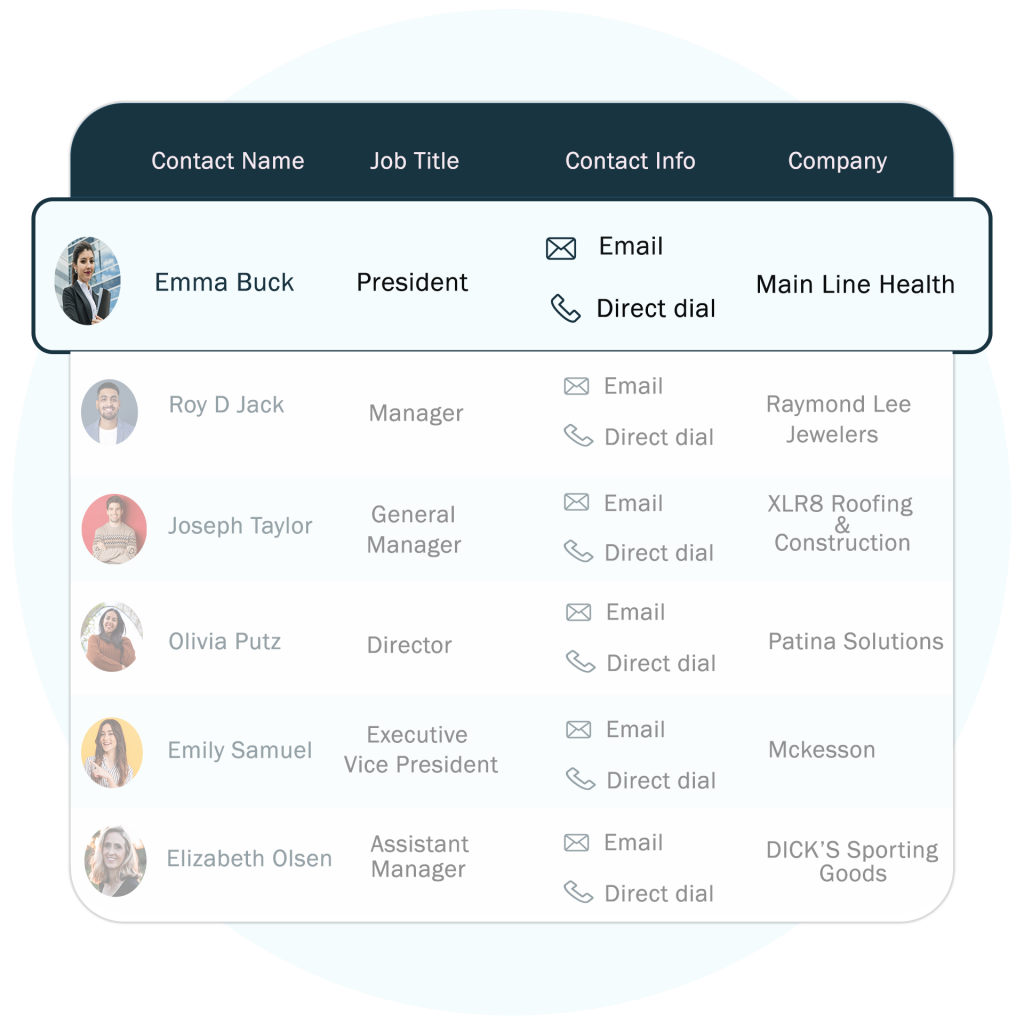 Grab our samples for free!
Looking to up your email marketing game? Check out our database of free samples to get started. Whether you're looking to test out new marketing strategies or just get a taste of what's possible, our resources will help you get there.
Frequently Asked Questions
The direct-dial telephone service enables users to call a number directly, bypassing an operator or receptionist. Businesses frequently utilize Direct Inward Dialing (DID), another name for it, to allocate particular numbers to particular personnel. Prospecting and communicating with new consumers can be sped up in this way.
By providing outreach to validated desk extensions and mobile numbers without any assistance, direct dialing help to increase the connect rate. By avoiding switchboards and gatekeepers, they save up time and let companies communicate directly with their target market.
Yes, you absolutely can. Because We collect data for from credible sources and process it using manual as well as automated methods. Furthermore, we routinely clean and update our databases to keep them fresh and active.
Say no to inaccurate data, since we are here to help you find the right data.
Share your target specifics which you would like to reach for running your marketing campaign.
Drop your business email address & phone number, our sales experts will get back to you with pricing and counts ASAP.