Gems and Jewelry Email List
The desire to adore and spend money on jewelry is almost an innate human characteristic, making the jewelry business dynamic and lucrative. If the Gems and Jewelry industry is your target market, the best way to reach them is through an email database. For that, look no further than the Gems and Jewelry Email List from TargetNXT. Using our email list, you can connect with key decision makers in this industry and effortlessly sell your products and services without losing any distribution opportunity.
Customize your Gems and Jewelry Mailing List by
Our Customers Love us and you will too!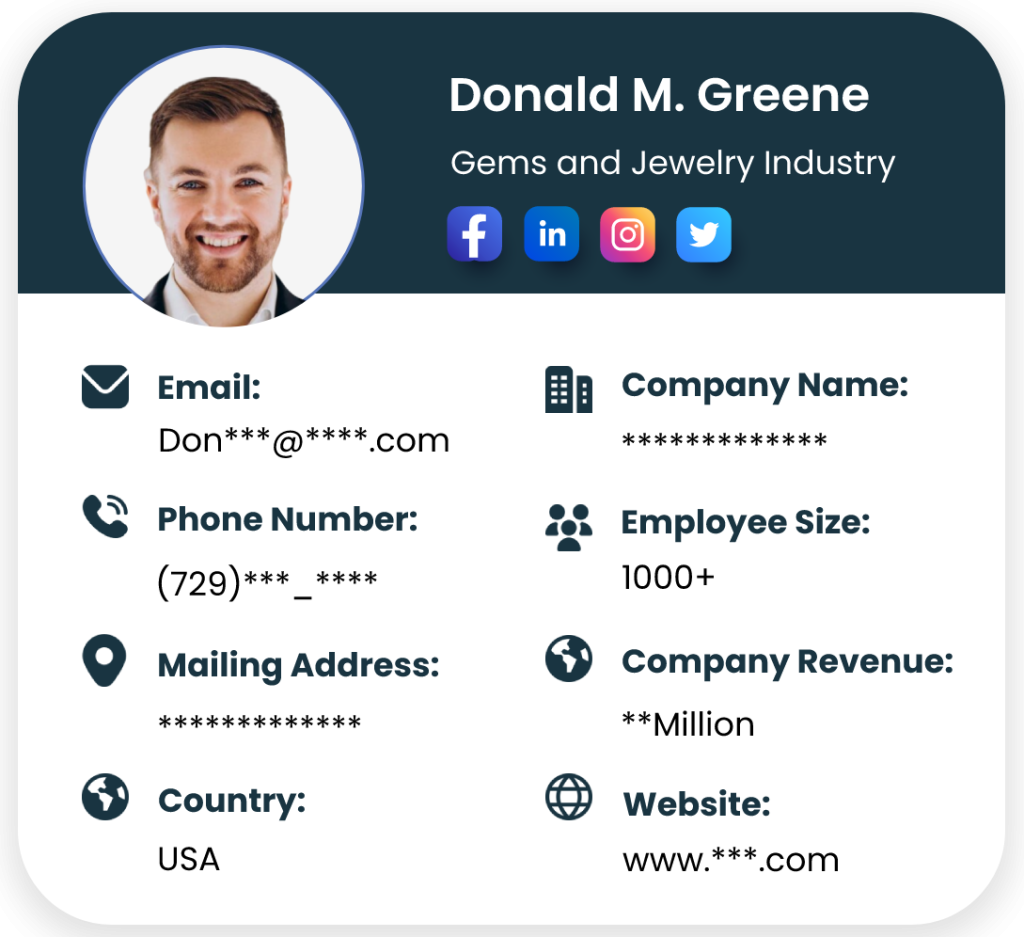 Get our Gems And Jewelry Industry Email Database to discover a world of timeless elegance and luxury.
Reach out to jewelry stores, jewelers, catalog buyers, online purchasers, jewelry retailers, department stores, etc; with our Gems and Jewelry Industry Mailing Database. You can trust your business with our data solutions, as we have a history of assisting numerous organizations and helping them achieve their goals by offering the most accurate, responsive, and deliverable databases. Businesses put their money and faith in us because we gather data from trustworthy sources and strategically put together our data solutions, envisioning the success of your company.
Work with our B2B Contact Data to Unleash your Business Potential
We handle all your Gems and Jewelry Email Data requirements. Whether you are a marketer, sales personnel, or an event organizer we have got you covered.
Lead Generation
Generate qualified leads, and Convert leads to customers.
Sales Development
Improve Sales engagement to win customers like never before.
Multichannel Marketing
Get 10X faster campaigns to call your prospective customers to action.
Event Marketing
Get your ideal attendee list for Conferences, Seminars, or Webinars.
Shine bright in the market with our Jewelry Stores Mailing Lists
TargetNXT gives you access to a comprehensive database of contacts for the gem and jewelry industry to help you with your marketing efforts and widen your network. With the help of our segmented data solutions, you can improve lead generation and conversion rates in your marketing. You can also employ our highly directive Gems and Jewelry Industry Email Marketing List to reach your prospects through multi-channel campaigns. Besides that, social networking, email marketing, cold calling, and other methods can be used to explore new sales leads.Contact us right away and grow your business to new heights.
Our Gems and Jewelry Industry Lists Includes:
Elevate marketing and expand sales with our Gems & Jewelry Sector Mailing List.
Our Verified Jewelry Stores Data Sources
The information offered by the Gems & Jewel Contact Database is thorough, informative, and up to date. This is due to the cautious and methodical way in which we gather information from reliable sources. Our data come from
Our Top Selling Industry Email List
Precious Stones, Precious Deals: Get Our Gems and Jewelry Industry Database
You can focus your search on a specific firm, contact, or area by using our extensive database. The Gems & Jewelry Mailing Addresses you receive are specifically designed to assist you in reaching your prospects.
Frequently Asked Questions
A list of email addresses from people or companies involved in the gem and jewelry sector is known as a Gems and Jewelry Email List. These email lists can be gathered from a variety of web resources or bought from outside companies.
Gems & Jewelry Contact Addresses can be used for marketing initiatives, such as introducing fresh goods or services to the industry's potential clients. They can also be utilized for research activities like polling or market research.
TargetNXT updates and purges its databases every 30-45 days to remove stale data and preserve an error-free list.
Say no to inaccurate data, since we are here to help you find the right data.
Share your target specifics which you would like to reach for running your marketing campaign.
Drop your business email address & phone number, our sales experts will get back to you with pricing and counts ASAP.