Machinery and Equipment Industry Email List
If your company's products and services are targeted at executives involved in the production and manufacturing of machines and equipment used in a variety of sectors, TargetNXT's Machinery and Equipment Industry Email List is the best tool you could have to build profitable prospects. Delay not, get our hyper-targeted email database to accelerate sales and revenue.
Customize your Machinery & Equipment Industry List by
Our Customers Love us and you will too!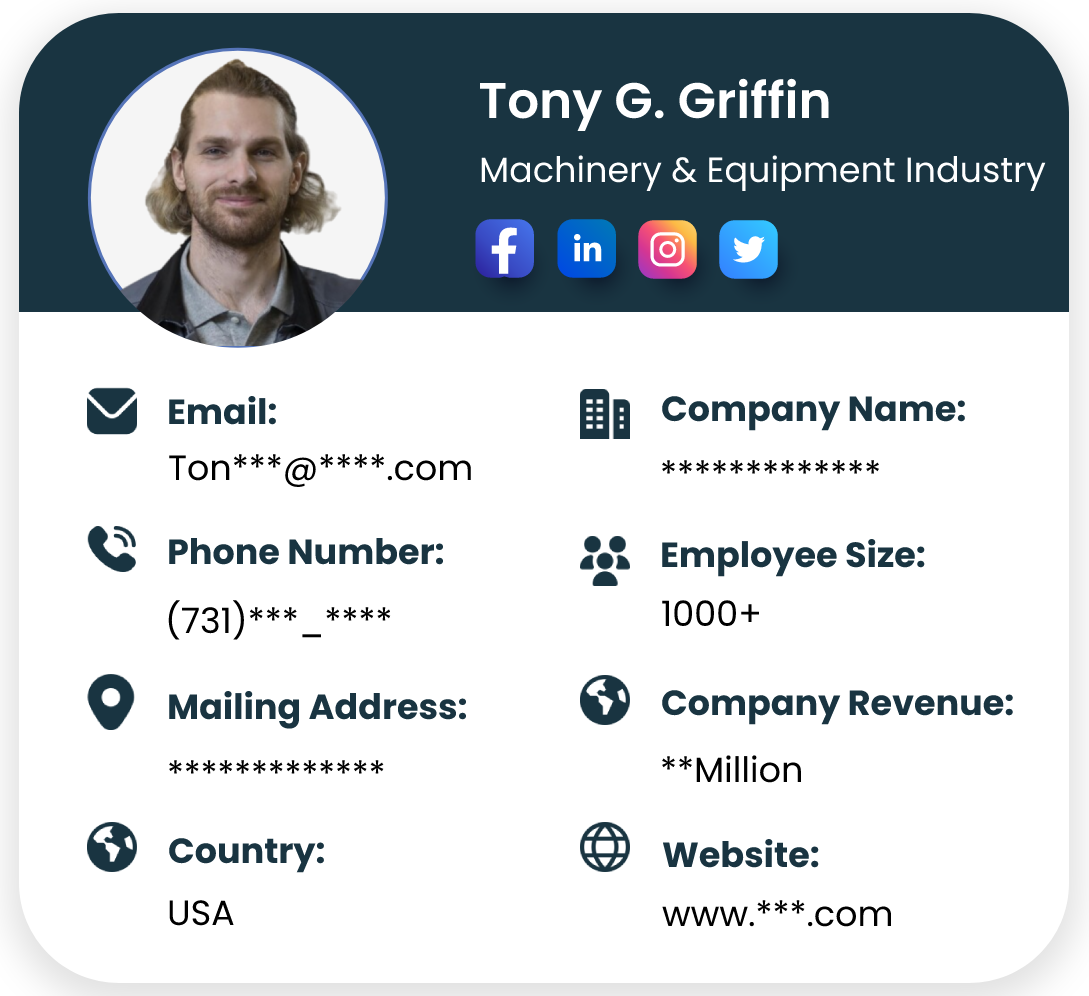 Power your business with our Machinery and Equipment Industry Database
Having access to your target market's precise contact information will help your business run more smoothly and successfully. Businesses that produce, distribute, and wholesale various types of machinery and equipment, such as office equipment, communication equipment, construction equipment, industrial electrical equipment, industrial machinery equipment, medical equipment, etc., are included in our Verified List of Machinery and Equipment.We continuously evaluate, segment, clean, and validate the data in our email list to ensure that your messages are delivered to these companies.
Work with our B2B Contact Data to Unleash your Business Potential
We handle all your Machinery and Equipment Industry Email Data requirements. Whether you are a marketer, sales personnel, or an event organizer we have got you covered.
Lead Generation
Generate qualified leads, and Convert leads to customers.
Sales Development
Improve Sales engagement to win customers like never before.
Multichannel Marketing
Get 10X faster campaigns to call your prospective customers to action.
Event Marketing
Get your ideal attendee list for Conferences, Seminars, or Webinars.
Smart Marketing with our Machinery and Equipment Database.
Confused by contemporary marketing tactics? Worry not, we have your back. Marketing can be a pretty tiring process if you lack genuine contact information about your targeted audience. But you are sorted if you have our Machinery and Equipment Industry Mailing Database at your disposal. You can effectively run multichannel marketing campaigns by utilizing a variety of communication channels using our email database. Increase lead generation, fasten conversion rates, and ramp up revenues with our robust email contact data.
Our Machinery and Equipment Industry Lists Includes:
Experience the ease of marketing with our List of Machine Manufacturers.
Our Machinery and Equipment Industry Data Sources
In order to assist you in staying one step ahead of your competitors, TargetNXT gives you access to a vetted and validated Machinery and Equipment Email Database that has been tailored to your company's needs. Because we don't cut corners on accuracy, our data is meticulously checked after being gathered from reputable sources.
Our Top Selling Industry Email List
Reach your target audience with precision using our Machinery and Equipment Mailing Lists
Every data attribute in our list is put through a number of quality checks and AI-based validation processes. For guaranteed high response rates and outcomes, we can assist you in targeting prospects.
Frequently Asked Questions
It's crucial to have a clear plan in place before using a Machinery and Equipment Industry Email Address. This can entail doing market research, creating relationships with potential clients, and creating targeted email marketing. Also, it's critical to adhere to the rules governing email marketing, such as getting recipients' consent and giving them the chance to unsubscribe.
Yes, you can personalize the Machinery and Equipment Industry Contact List according to your business demands and requirements.
By employing an email list for the industry, you can interact with potential consumers, advertise your goods or services, and raise brand awareness. It can also assist you in keeping up with business news and trends, as well as in spotting prospective joint venture or collaboration prospects.
Say no to inaccurate data, since we are here to help you find the right data.
Share your target specifics which you would like to reach for running your marketing campaign.
Drop your business email address & phone number, our sales experts will get back to you with pricing and counts ASAP.