Schools are knowledge powerhouses that have a central role in every business relating to the educational industry. If you are looking forward to connecting with schools for your business endeavors, the Schools Email List from TargetNXT is what you need right now. Our Schools Email Lists makes it easier for you to reach out to key decision-makers at schools like teachers, professionals, principals, administrators, etc; so act now and make the difference.
Customize your Schools Lists by
Our Customers Love us and you will too!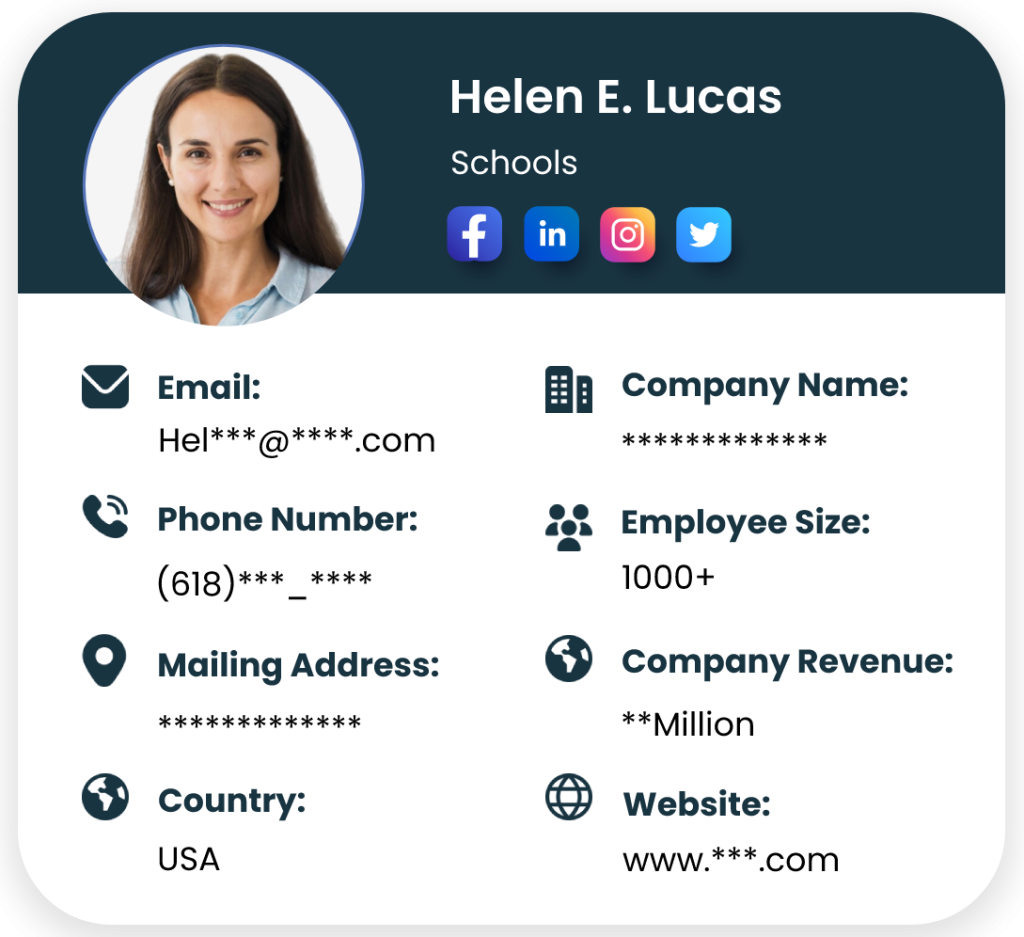 Power Up Your School Outreach with Our Customizable Schools Email Database
With targetNXT, you can choose relevant and accurate data based on your business needs from the more than 75 custom options we provide. Our Schools Mailing Database, enables you to locate and get in touch with your chosen institutions that provide particular academic or professional courses. You can obtain your prospect's entire marketing profile in our Schools Database and seal the deal without any further hassles. To advance your company's operations, purchase our verified and validated email database.
Work with our B2B Contact Data to Unleash your Business Potential
We handle all your Schools Email data requirements. Whether you are a marketer, sales personnel, or an event organizer we have got you covered.
Lead Generation
Generate qualified leads, and Convert leads to customers.
Sales Development
Improve Sales engagement to win customers like never before.
Multichannel Marketing
Get 10X faster campaigns to call your prospective customers to action.
Event Marketing
Get your ideal attendee list for Conferences, Seminars, or Webinars.
Get recognition in the global markets with our K12 Email Lists.
We are aware that every business approaches marketing in a unique way, and that a tailored email database must be created specifically to give you access to the precise contact information of your targeted audience. With the help of our K12 Mailing List, your company can broaden its market reach by having access to data about schools in many different countries and regions. Our email list also enables you to run multichannel marketing across different platforms, which will hasten the lead creation process and boost sales.
Our Schools Email Lists Includes:
Make a lasting impression on the educational Industry with our Schools Email List.
Our Authentic Data Sources
At TargetNXT, we have a team of experts working round-the-clock to build the most deliverable Schools Email Databases that is entirely legitimate; all the data our data scientists have acquired comes from reliable and recognized sources.
Our Top Selling Industry Email List
Boost up your business initiatives with our Schools Contact Lists.
Launch highly successful marketing strategies and campaigns by using the Schools Contact Database. Give your marketing initiatives a fresh focus by connecting to only responsive customers through a choice of promising databases.
Frequently Asked Questions
A school email list is a database that contains the emails of administrators, faculty, and employees at educational institutions such as K–12 schools, colleges, and universities. Businesses and organizations can contact these institutions using these lists for marketing purposes.
As long as you follow the rules governing sending unsolicited emails, you may utilize a school email list for marketing purposes. Also, you must make sure that the recipients of your communication will find your message useful and relevant.
We update our Schools Mailing Lists every 30 to 45 days. Every time we receive a request for the email list, the database also undergoes an essential quality check before delivery.
Say no to inaccurate data, since we are here to help you find the right data.
Share your target specifics which you would like to reach for running your marketing campaign.
Drop your business email address & phone number, our sales experts will get back to you with pricing and counts ASAP.