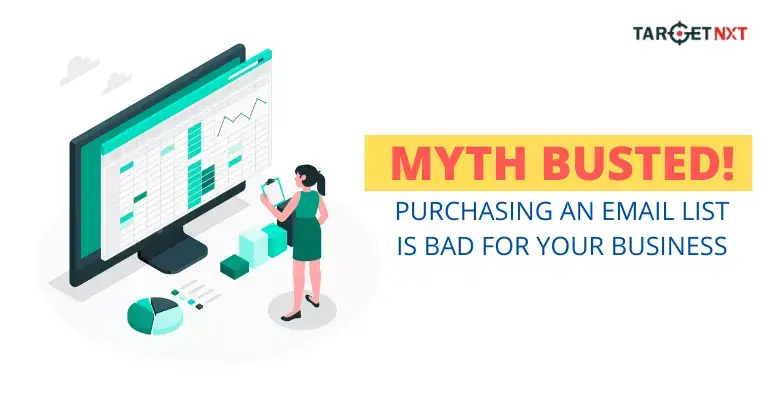 What time is it? It's time to bust the biggest myth about purchasing an Email List.
Purchasing an Email List has gained quite some criticism over the internet. While on the contrary, seasoned marketers highly recommend purchasing an Email List to run marketing campaigns.
So, what is the truth? Is it really bad? Does it hurt your businesses in the long run?
Fortunately, the answer is NO!
If it really was that bad, why would people still be buying and selling Email Lists?
Alright, folks, let's go bust some myths about Mailing Lists.
Myth #1: Purchased Email Lists violate the GDPR Guidelines
What does GDPR say?
GDPR says that the person whose data is being collected is entitled to certain privacy rights. And, if the email list you purchase is compliant with GDPR, you have nothing to worry about. For Instance, TargetNXT compiles email lists that are compliant with GDPR as well as CCPA. This means, not only can you run hassle-free campaigns in Europe but also in the US.
Myth #2: Using a Purchased Email lists Will Hamper Your Email Deliverability and IP Credibility
It makes me go ROFL when I come across people saying this. Let me tell you why.
Below are the factors that affect your email deliverability and IP credibility:
Sender's Reputation – Your IP address reflects your reputation to ISPs, and reputation is mainly impacted by your send volume, sending frequency, user interaction (open, click-through, unsubscribe, or mark as spam). Lower the reputation, higher the chances of your emails getting blocked or filtering them into spam or junk folders.
Domains – Similar to your IP address, your domain carries a reputation too that enables ISPs to determine whether to send your email ahead or just throw them in the abyss.
Recipient's behavior – ISPs use a deliverability algorithm that keeps an eye on your recipient's behavior. If they happen to delete your email without opening it repeatedly, your emails will be directed to subfolders. And if a lot of your recipients follow the same suite, your ID shall be blocked in no time.
Email content – Your emails' subject lines and body content can trigger the spam filters and thus impact the deliverability rate. Make sure to write content that does not get flagged as spam.
Myth #3: A Purchased Email List Leads Your Emails into the Spam Folder
Spam – the word every email marketer loathes.
And the reasons why most of the time your emails end up in the spam folder are:
Bad email design/formatting.
Not including an unsubscribe link.
Bad IP reputation.
More negative engagements.
Now that we have debunked some of the popular myths about purchased email lists doing rounds on the internet. Let me list down the advantages of it.
It Helps you Expand Your Reach
The reach of your marketing campaign is limited to the number of emails present in the email list used to run it. The bigger your email list more extensive your reach is. You can generate lot more leads when your spectrum of sending marketing emails is vast.
Has the Potential to Generate Sales-Ready Leads
Email lists that are put together using an Opt-In process tend to have prospects interested in exploring new products/services relevant to their niche. When you promote your product to a target audience with a vested interest, the chances of generating leads that convert easily are pretty high.
It is an ROI Magnet
Obviously, your revenue stream automatically thickens when your reach has expanded, and you are generating qualified leads.
Saves a Lot of Your Resources
Building your own email list from scratch is a tedious and time-consuming job, requiring patience and time. For your email list to size up to a significant amount, it will also take months and sometimes years. Whereas purchasing an email list will directly provide you with a fully functional email list with as many contacts as required. I'm not asking you to stop building your email list. Instead, while your email list is being built, you can purchase an email list.
Bonus:
Things to Consider Before Purchasing an Email List:
Ask for a sample of the email list you require to check its quality.
Check the sources of the data. Ask if the source of their data is legal and up to industry standards. If the email list is mainly compiled through the Opt-in process (like TargetNXT does), you have nothing to worry about.
The best kind of email list provider is the one that lets you customize your email list based on your requirement. Specifically, choosing your ideal target audience increases the success rate of your marketing campaigns.
Bottom Line
Still think purchasing email lists is terrible?
Email lists are rarely the reason for GDPR violation, hampered Ip credibility and deliverability, emails ending up in spam folders.
These scenarios depend on the business/marketer running the campaign and have nothing to do with email lists.
Email lists have been of great help for various businesses in the growth stage. Email lists come with various added advantages.
Explore TargetNXT to witness the true potential of email lists and how you can get yourself one. We make sure to follow all data privacy guidelines and provide data sourced from legitimate sources. Our Email Lists are an ideal solution for your email marketing campaign.