Sugar CRM Users Email List
If you want to pitch your software products or services to experienced professionals or important decision-makers utilizing SugarCRM solutions or related services, TargetNXT gives you the most functional and timely assistance you need for your business. Get our SugarCRM Users Email List and wait no more to escalate your business initiatives to new heights.
Customize your Sugar CRM Users List by
Our Customers Love us and you will too!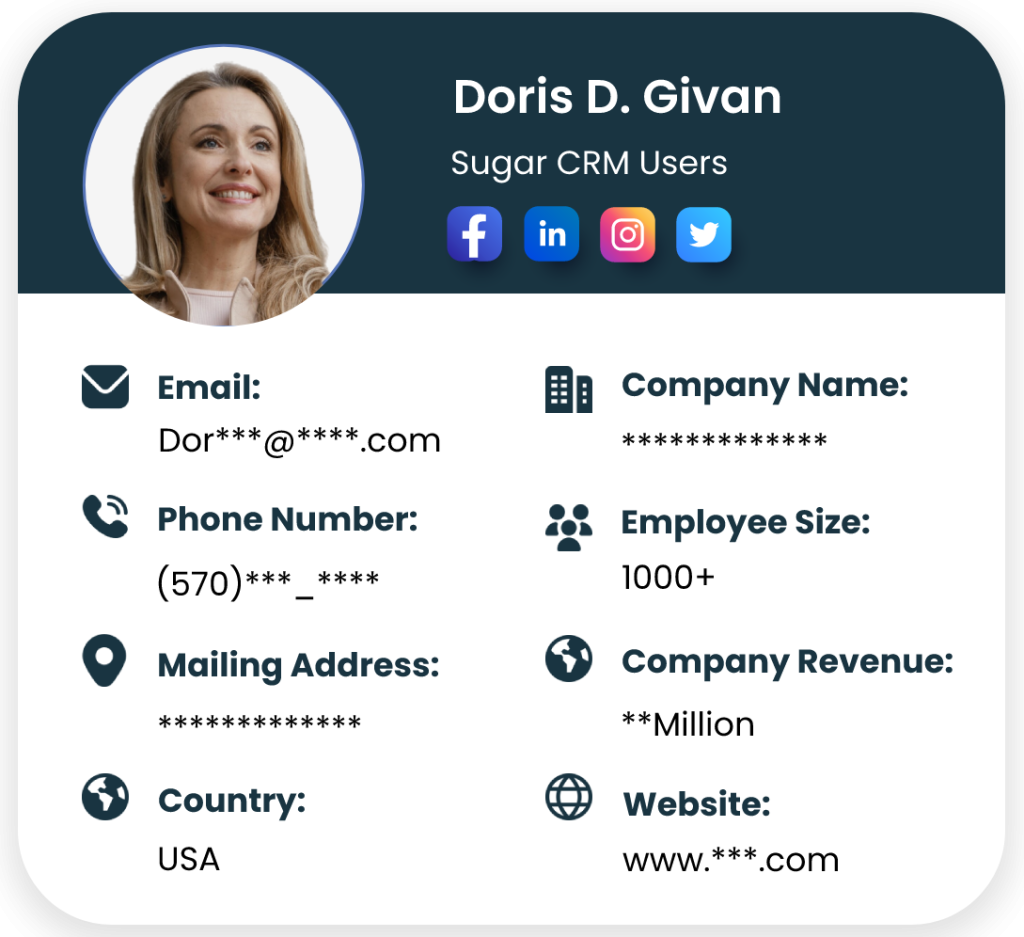 SugarCRM Users Lists to level up your business endeavors
Finding the right prospects for your business upgrade can be a tricky task if you don't have the accurate contact details of your targeted demographic. If CRM is your target market, your company requires a competitive edge to establish a distinctive position in the highly competitive CRM market. You can establish dynamic relationships with your prospects and boost response rates with the aid of our SugarCRM Users Mailing List. Try our verified email databases and let your results resonate with your efforts.
Work with our B2B Contact Data to Unleash your Business Potential.
We handle all your Sugar CRM Users Mailing lists requirements. Whether you are a marketer, sales personnel, or an event organizer we have got you covered.
Lead Generation
Generate qualified leads, and Convert leads to customers.
Sales Development
Improve Sales engagement to win customers like never before.
Multichannel Marketing
Get 10X faster campaigns to call your prospective customers to action.
Event Marketing
Get your ideal attendee list for Conferences, Expos, or Webinars…
Our SugarCRM Customers Email List, one stop destination for your marketing needs.
TargetNXT's SugarCRM Users List is a remarkable mailing list that can bring significant impacts to B2B technology marketers' sales potential and return on investment. The SugarCRM Users Email Database enables you to communicate with a list of businesses that are using SugarCRM for marketing campaigns, reporting, sales-force automation, customer support, recruitments, and social and mobile CRM assistance. Using our trusted mailing list to target prospects for personalized email, direct mail, or telemarketing campaigns can boost your sales volume and ramp up your revenues.
Our Sugar CRM Users Lists Includes:
Employ our SugarCRM Users List to Fasten up the conversion rates.
Our Trusted Data Sources of Sugar CRM Customers Lists
The quality of an email list as a whole depends on how accurate the data is. Our SugarCRM Users Email Database, which we collect from dependable sources, is routinely updated and cleaned to maintain its accuracy.
Other Technology Users Lists
Our SugarCRM Customers Lists to empower your business.
As we only use data from reputable sources and then go through a three-tiered data verification procedure, our consumers put their trust in us. The main characteristics of our databases are
Frequently Asked Questions
Say no to inaccurate data, since we are here to help you find the right data.
Share your target specifics which you would like to reach for running your marketing campaign.
Drop your business email address & phone number, our sales experts will get back to you with pricing and counts ASAP.