The culinary industry has seen rapid demand and expansion across the world which opens up to a wide range of business possibilities. To make effective use of every business opportunity arising in this industry, TargetNXT has compiled a Chefs Email List consisting the contact data of key professionals working in the culinary industry. If you are a marketer in this particular industry,we make it easier for you to contact them with your offerings. Reach new geographies to never miss a distribution opportunity with our Chefs Email Lists.
Customize your Chefs Lists by
Our Customers Love us and you will too!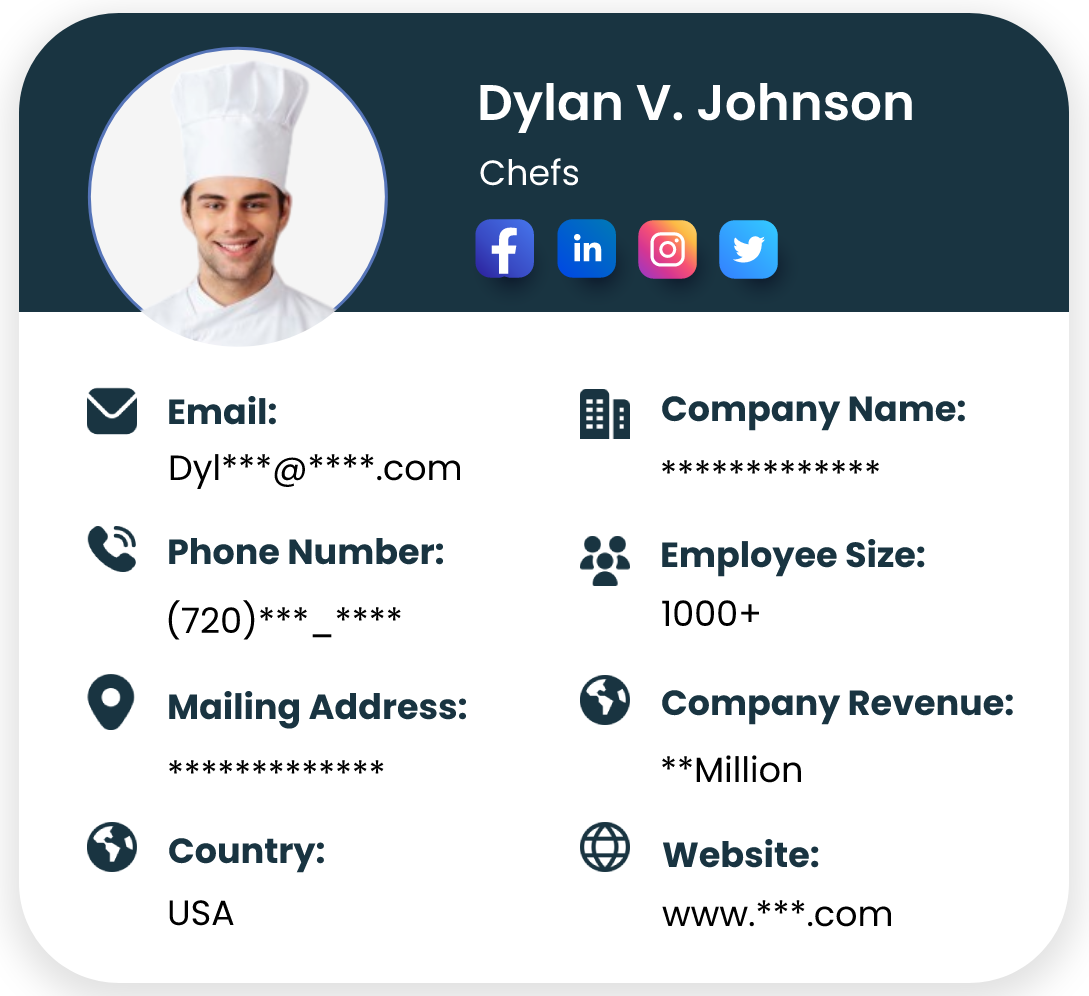 The Perfect Recipe for Your Business starts with our Culinary Chefs Email Database
Use our pre-packaged and personalized Chefs Mailing Database to connect with the executive chefs, food and beverage directors, caterers, kitchen managers, and club managers who purchase the food, equipment, and other supplies for premium hotels and restaurants. People trust us with their business and investments as we provide the most accurate and verified email database best suited for their business endeavors. From data extraction to data delivery what we envision is the profit and success of your brand. So, act now and get our Chefs Contact Data right away!
Work with our B2B Contact Data to Unleash your Business Potential
We handle all your Chefs Email data requirements. Whether you are a marketer, sales personnel, or an event organizer we have got you covered.
Lead Generation
Generate qualified leads, and Convert leads to customers.
Sales Development
Improve Sales engagement to win customers like never before.
Multichannel Marketing
Get 10X faster campaigns to call your prospective customers to action.
Talent Acquisition
Starting out or Scaling up, choose your ideal employee from our data.
Master the Art of Marketing with our Chefs Mailing Database
Reach the key decision makers holding massive purchasing power and market your offerings to them using our datasets. We provide our top-notch Chefs Email Marketing Lists at the affordable pricing so you can simply get started with functional marketing strategy right away. Be the first among your competitors to start an effective channel of communication with your targeted demographics. Deploy marketing campaigns across their preferred channels of marketing and boost your lead generation and conversion rates. Take your marketing game to another level with our Chefs Email List.
Our Chefs Email Lists Includes:
Get the taste of success with Our Chef Email Database.
Our Trusted Chefs Data Sources
The most of the contact details we gather for the Chefs Marketing List come from routine surveys and business directories. The data that was utilized to build the email list was lawfully acquired and periodically reviewed.
Other professionals Users Mailing Database
Savor success with our Chefs Email Address
Our data specialists work hard to give you the essential insights you need to ensure that your B2B campaign receives the best possible business response. Benefits of utilizing our Chefs Marketing Database include:
Frequently Asked Questions
A Chef's list is a database of email addresses and other contact information for chefs, cooks, and other food industry professionals. These lists are often compiled by marketing companies and sold to businesses that want to promote their products or services to the culinary industry.
Companies can advertise their product or services to the culinary industry by using email lists of chefs. This can entail emailing chefs and other experts in the food business with newsletters, deals, or other marketing items.
The information on the Chefs Email list is 100% accurate because it is frequently updated and validated. We rely on the most latest data and cutting-edge verification tools to ensure correctness.
Say no to inaccurate data, since we are here to help you find the right data.
Share your target specifics which you would like to reach for running your marketing campaign.
Drop your business email address & phone number, our sales experts will get back to you with pricing and counts ASAP.